Cost of things being what they are, I had to make the painful (well, not painful, I just knew it was a ton of work and while I don't mind the work, finding the time to do it is akin to most of us finding shop time....) decision to migrate the entire Galoot Central empire over to a more modern hosting provider. I loved my old provider but was trapped in an outdated cost model .. funny they could only offer the really good deals to "new" customers .. the oldtimers just had to suck it up.
So... the site has been moved and there are probably a few little bits a pieces hiding in corners that still need tweaked. If you spot somthing that doesn't work, please jot me an email. I had this and 2 more even larger ones to do this week. And one smaller one. At least that one went well!!
peace all,
Jim .. keeper of the house here...
Okay, let's try something a little new ... a new Oldtools member asked about an unusual machinist's chest .. oh, he'll get around to setting himself up an Image Central folder, but hey, until he does, the front page needed something new ... so, here's the pic and a bit of the message from Bob B.: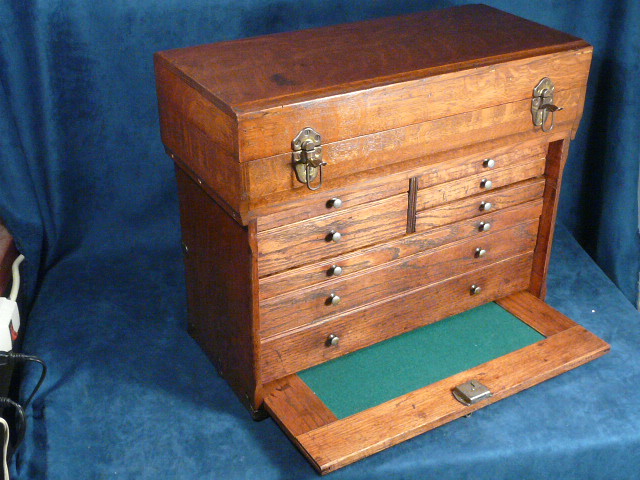 And from Bob's message:
Attached is a photo of the oak machinist tool chest. It has an Eagle lock & key. It's unusual because the box on top overhangs the front and sides. Any idea who made it? "
Go ahead and fire up a conversation on the list .. to reference the photo, just point folks to the front page here...
Check out new download item!
From the looks of things, the few downloads that have been there a while have been grabbed many times. It has been a while, but courtesy of Charlie Rodgers, a new download is available showing his panel clamps.
Choose Downloads from top menu to see this one and the others.
Thanks Charlie!!
Been doing a lot of reading lately, both for school and beyond .. ran across this passage in a story that I just had to capture so I could return to it...
Of all the handicrafts in the world there is none cleaner, pleasanter, and more fragrant than that of the carpenter. He works in friendly stuff. If he knows it well enough and can feel its qualities, it yields readily to his working and takes the outward shape of his thought - chaor or table or bed, window-frame or shelf or beam.

Well-seasoned lumber he wants, that it may not warp. Knots and cross-grains trouble him, like orginal sin in man; but he takes note carefully, and avoids or conquers them. He judges his material with his eye before he measures it with square and foot-rule. His mind guides his fingers; his fingers fit his tools; his tools work his will in wood.

What good odors rise around him as he labors! From each tree its own fragrance: the resinous smell of the terebinth and the cypress; the delicate scent of the wild-olive with its smooth, curly texture; the faint, dry sweetness of the orange-yellow acacia with its darker heart; the clean odor of the oak with its hard, solid grain; and on rare days, the aromatic perfume of some precious piece of the cedar of Lebanon, king of trees.

Joseph, the carpenter of Nazareith, was proud of his trade......

Henry Van Dyke, from "Even Unto Bethlehem"
Ah yes, the carpenter of Nazareth (though we tend to think more about his little boy..) .. a good read this little story .. and well timed reading as I hit around the midpont of Advent. Good story indeed...
---Jim
At least a few of you have taken notice of the images at the bottom of the screen. These are toolmakers who were featured back in the day when I was doing a monthly toolmaker feature on Wiktor's site. Well... I hadn't looked at the numbers in a while but did a couple days ago and felt I should share them.
In the past 15 months (today is October 13th as I peck this out...), each of the logos has appeared roughly 78,000 times .. and each is averaging a click rate of a little under 2% ... the math wizards among us will quickly tally that to around 1500 visits to those web sites.
So.. are you a toolmaker or related artisan with goods to sell? Would you like an extra hundred visits a month to your web site. (and coming from pretty discerning folks, no less!!). Fire off an email to Jim E #2 .. tell me what logo you want to display and where you want visitors to land (doesn't have to be your home page).
Oh, cost ... nope. Sorry. I'm too busy to keep track of anything else. I'm back in school, still coaching, teaching Junior Achievement, teaching catechism and well, trying to keep track of which zip code which kid needs to be in every night. It just occurs to me that something good is going, it takes only a few seconds to set up and then it just runs itself.... so.. like the rest of Galoot Central, the service is free. A few have asked over the years about the costs involved in keeping this whole thing up and running. Well, there are a few costs involved and they are largely covered by a few generous folks who visit the donation link every now and then. Like most of activities in my life that I find rewarding, it's the ones I don't make a living from that mean the most. So.. jump on board. There just isn't a downside to this beyond the two minutes it will take you to send me an email! You can send to: webmaster at galootcentral dot com (well, fix the address before clicking send!)